Two peaks for two years
On Saturday I stood on top of Scafell Pike, flying the same flag I flew on the 12th of September 2021 on the summit of Snowdon.
This isn't the world's slowest three peaks challenge, but rather my way of celebrating what has been two fantastic years of Cockadoodledoo!
Or in the immortal words of Her Majesty Queen Elizabeth II
"It's a reminder to us all that giant leaps often start with small steps."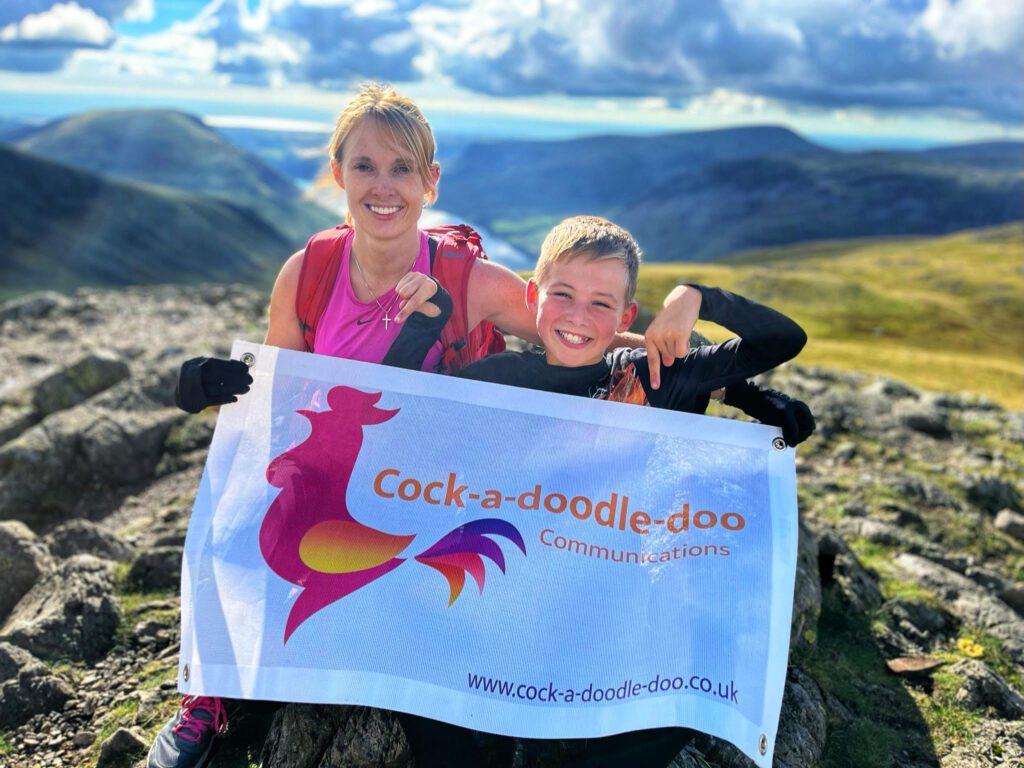 On this day in 2021, I climbed Snowdon in the dark to watch the sunrise at the summit, a metaphor accurate to my first year in business. At times it was like trudging through the darkness.
Cock-a-doodle-doo was established amid the Covid Pandemic. The path was not well lit, and it was paved with uncertainty. However, the power of the rooster prevailed and as we reached the summit the crow was heard loud and clear at the break of dawn to signal the start of a new year.
On Saturday I stood on top of Scafell Pike, the smallest of the three peaks but commonly considered the most difficult. Having survived to tell the tale I agree this was no walk in the park. A technically difficult climb a metaphor accurate for my second year in business.
The last 12 months have been challenging as I've navigated my way through an established sports marketing industry whilst maintaining the differentiation at the heart of the Cock-a-doodle-doo offer.
Don't' get me wrong the sun has shone brightly as we've welcomed new clients and worked on some fantastic projects, but much like the weekend's climb we've had to work hard to find our footing. Over the last year, I have learnt there is no blueprint for what I seek to create, and I am determined not to morph into a stereotypical marketing agency.
At the beginning of the year, I rented an office. It seemed like the logical next step for Cock-a-doodle-doo to have a base, but I found that other marketing agencies surrounded me, I was starting to blend in, and conforming scared the hell out of me. 
The keys were swiftly handed back, and building work commenced on Cock-a-doodle-doo's first hen house, a remote base where chickens roam free, bikes hang from every wall, and creative juices flow!
We also launched a new website with the welcoming message of a rooster looking your straight between the eyes. There is no hiding from the fact that we are different; we embrace this and seek every opportunity to create differentiation for our clients.
However, Cock-a-doodle-doo is much more than just chickens. What makes us different is our approach. We believe every campaign is unique, and we can offer our clients a way of working that lets them choose what skills they require for individual projects on a plug-in and play basis.
The agency model needs a new lease of life; client needs have changed; they no longer want a standing army of inexperienced staff. The modern company wants specific skills for specific projects and project managers whose experience and expertise they can trust.
To show how far we have come, this week I received an unexpected LinkedIn comment from the CEO of Active Nation, the UK's leading well-being Charity
"It's brilliant to work with great partners who completely 'get' and understand our purpose, stretch our thinking, and join us with our important mission to inspire the nation to improve their health and well-being."
I hadn't sought this feedback, but it made my week and was wonderful to read that our client's see how much we are invested in them.
As we grow, so will our offer, there's a lot of untapped experience in Cock-a-doodle-doo, and over the next few months, you will see our offer expand as we start to spread our wings into Out-of Home Advertising, Audience Analysis and Design, whilst holding firm our values of energy, quality, and creativity.
I want to finish by thanking our long-standing clients for their trust and belief that we can create change together. Thank you to the British Horseracing Authority, Active Nation, Royal Yachting Association, Magna Vitae, Rio Ferdinand Foundation and Leisure SK.
I am not complacent, and I know that 60% of businesses fail in the first three years, so today, I make this pledge. I intend to fly this flag on top of Ben Nevis next year, and I hope you will join me on the journey.
Onwards and upwards, my friends!